Y-BLOCK ENGINE GASKETS
RS-572G FULL GASKET SET FOR 256-272-292 Neoprene real seal
RS-572G2 FULL GASKET SET FOR 312 Teflon rope seal
3A52 SILICON RUBBER REAR SEAL FOR 312
18005RE NEOPRENE VALVE COVER GASKETS FOR Y-BLOCK
3788W NEOPRENE REAR SEAL 239-256-272-292 w/SIDE SEALS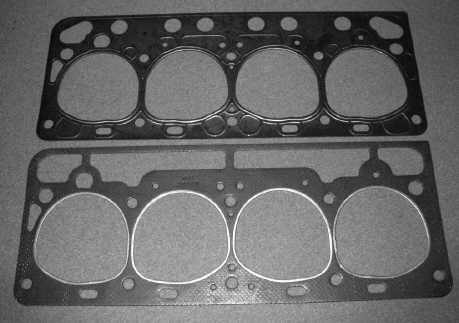 #572G IMPROVED DESIGN Y-BLOCK HEAD GASKETS. Reduces wasted clamping of head and block around pushrods and under intake ports to concentrate clamping around cylinders. Now available in gasket sets or 49.00 pair.
#582B BIG BORE VERSION. UP TO 3.937" BORE. 99.00 pair
NEOPRENE VALVE COVER GASKETS.
Re-usable. Die cut from high quality neoprene rubber 32.00 pair
SILICON RUBBER REAR MAIN SEALS for 312's.
Specific design. Rear main seals include side seals 45.00